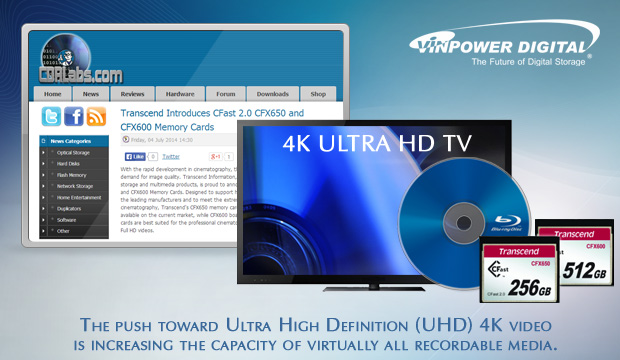 Resolution for movies and television is constantly expanding and the UHD 4K (which is 4 times higher resolution than our current hi-def standard of 1080), requires a lot more capacity than a 25GB Blu-ray can provide. That is why recordable media manufacturers of all kinds, including optical discs, hard drives, and flash media are increasing the size and speed at which the media can record at.
Just recently, Transcend sent out a press release that touted the upcoming release of two new Compact Flash (CF) cards (256GB and 512GB) to allow video cameras to record in full 4K resolution without missing a beat. As detailed in the release found on CDRLabs.com, "Designed to support high-end 4K cameras and camcorders from the leading manufacturers and to meet the extreme demands of professional cinematography, Transcend's CFX650 memory cards feature the fastest transfer speeds available on the current market, while CFX600 boast the highest storage capacity."
Of course, these large capacity CF cards come at a steep price (upwards of nearly $500 to $1,000 each) and could be price prohibitive to buy more than one or a couple to capture the original content. That's why optical discs are still the most practical solution for distributing UHD content. For just a few dollars or less than 1% of the cost of the CF cards, one could purchase a recordable Blu-ray 25GB, 50GB, 100GB, or higher capacity for mass production to the consumer market. Even as the content gets bigger and more complex, it's nice to know that Optical discs make that content more affordable for the masses.
Whether you are looking for blank media, including the high capacity BD-R, or for steps on how to back up or create your content, Vinpower has a solution for you. Vinpower carries a number of all types of recordable media, especially optical discs, and duplication hardware, including CF to USB adaptors so that it can be reproduced through our USB duplicators. Whatever you need in the duplication field, Vinpower can provide.