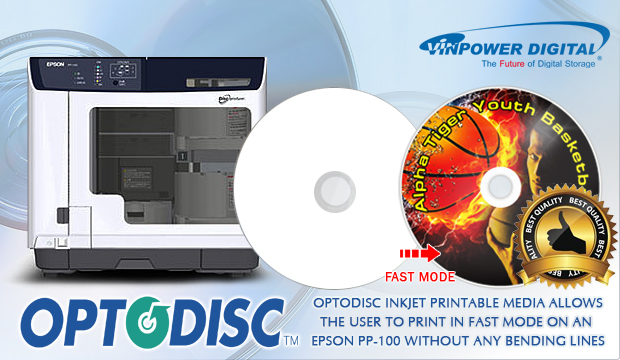 Why should we have to choose between better quality vs. faster speed? When it comes to inkjet printing on optical discs, it seems if you want greater production in a shorter period of time, you have to accept imperfections on the printed discs, like light bending lines from the print head. Well those days are over because OptoDisc inkjet printable media gives you the best of both worlds, speedy production and excellent print quality. The special inkjet coating formula that is available on the entire line of OptoDisc inkjet printable CD's, DVD's, and Blu-ray discs allows users to print in the fast mode on an Epson PP-100 or PP-100AP printer to maximize production, yet won't show any of the faint lines that typically show up with alternative inkjet printable media under the Fast Mode setting.
With the special advanced absorption surface of the OptoDisc inkjet printable media, it allows the printer to apply the ink onto the discs at a faster pace without leaving the common streaks or lines that show up on other similar media. No one wants to handout less than perfectly printed discs and you shouldn't have to sacrifice production time in order to achieve it. If you really want the best quality print, in the quickest time possible at a low reasonable price point, then your best bet is to use inkjet printable media made from OptoDisc!
To get more details about OptoDisc inkjet printable media as well as any of the OptoDisc media lines or Vinpower hardware, please visit our website at www.vinpowerdigital.com or contact a Vinpower representative near you.