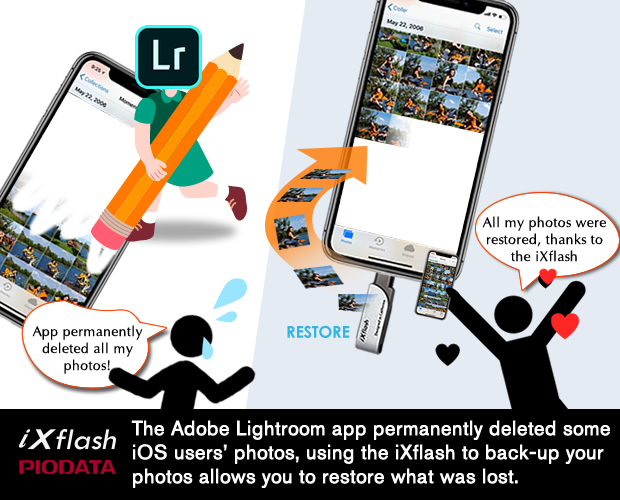 This is a topic I speak about quite a bit, how critical it is to backup all your files, especially your photos and videos. Here's another example of how not backing up your photos on your iPhone or iPad can be devastating.
Recently, the Adobe Lightroom App sent out an update to its App on all iOS devices, as all Apps do. The problem is this App hid a killer bug that permanently deleted some iOS users' photos and presets. Without warning and no way to retrieve the lost content, these iOS users were left with nothing but apologies from Adobe and Apple. However, if those users had the Piodata iXflash drive, they could have quickly and easily run routine backups of their iPhone or iPad, saving all of their previous photos and videos. Then the iXflash could have just as easily restored those photos and videos back onto their iPhone or iPad, saving the day and making this ordeal nothing more than a simple nuisance, rather than a life altering problem.
The iXflash can backup and restore all of your photos and videos stored on an Apple iOS mobile device to give you peace of mind. Plus, with such a low price point for the full range of iXflash drives, including, 32GB, 64GB, 128GB, 256GB, and 512GB, makes it affordable for anyone and priceless to everyone!
Here's a link to an article discussing the Adobe Lightroom deleting iPhone photos for more details:
https://www.engadget.com/adobe-lightroom-ios-update-permanently-deleted-photos-194651501.html
For more details about this item or anything Vinpower offers, please visit www.vinpowerdigital.com, or speak with a Vinpower representative near you.