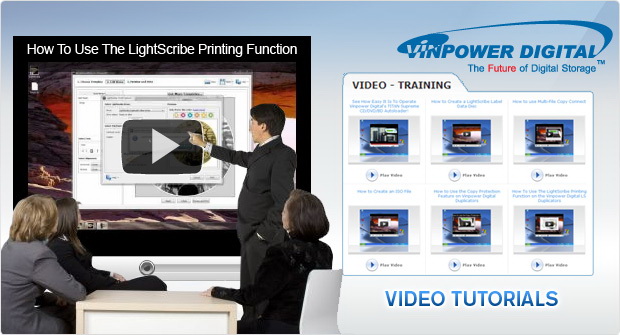 Often times our tech support fields calls asking questions about how to use this product or feature which can be time consuming and difficult to instruct over the phone. It's because of this that we have developed a number of instructional videos that provide both video and audio instructions on how to perform certain tasks such as; How to Create a LightScribe Label, How to Operate Vinpower's TITAN Supreme, How To Use the Multi-File Copy Connect, and more. This has been a tremendous asset to both end users inquiring about the products, as well as our support team, freeing up their time to focus on customers with issues requiring more focused attention.
So, whether you're using Vinpower products and are wishing to gain a better understanding on how they work or if you sell Vinpower products and want to make certain your customers are aware of how to use the products, we most likely have a video that will benefit you. You can check our website through the below link or find any number of our videos on YouTube.
http://www.vinpowerdigital.com/en-us/main/TrainingVideos.aspx
At Vinpower, we care about the whole customer experience and not just a single sale. So, when you're looking to purchase products that will last and will continue to be supported, Vinpower Digital is the name you can rely upon.