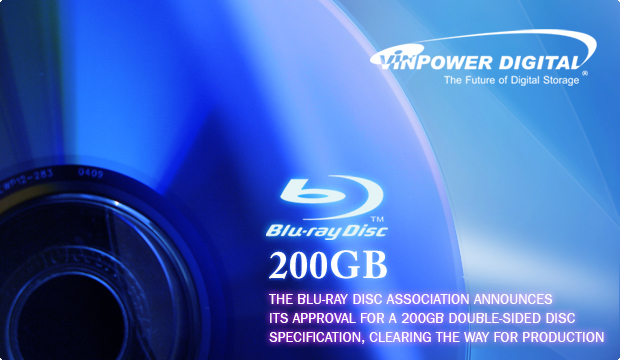 The Blu-ray Disc Association (BDA) approved specifications for a 200GB double-sided disc. A disc of this size has two primary applications:
1. Greater storage capacity as a physical storage medium
2. Larger capacity for the upcoming 4K Ultra High Definition video content
One of the deficits for current Blu-ray discs are the limitations in capacity for data back-ups. The upcoming 200GB Blu-ray media overcomes that obstacle and is targeted at the archival and back-up market. With so much digital content being created and stored in the "cloud", companies and governments need a method to securely store this content on a physical media as a back-up. Optical discs are the most reliable medium for back-up as the discs do not have physical contact with the read/write head or continuously spin, preventing the potential erosion that can happen to tape or HDD's. This makes the 200GB Blu-ray disc a reliable back-up and archival solution for all important or critical data stored on a hard drive or in the cloud.
With the recent BDA approval for the licensing of an optical disc technology that can handle high-resolution 4K video, the next step is finding a media that can hold the massive data and files created when producing 4K content.
The discs themselves will allow the user to burn content on both sides of the disc, approx. 100GB per side, doubling the current BDXL disc capacity. Now that the BDA has approved the specifications, it clears the way for media manufacturers to begin production and bring to market these very large capacity recordable discs. Look for this new media to be hitting the market in the near future.
For more details about Blu-ray media or duplication equipment, contact your Vinpower representative today.