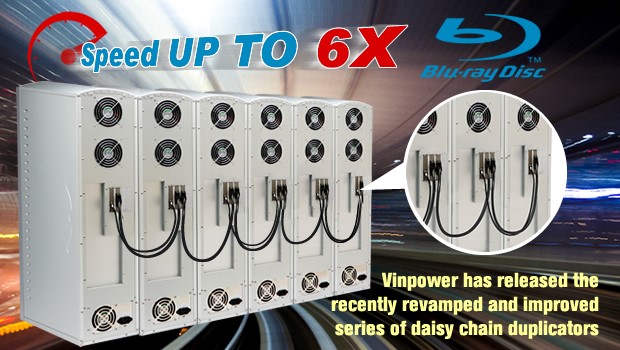 The old saying goes, if it ain't broke, don't fix it. Well, Vinpower doesn't always subscribe to that notion as we've found that most everything can be improved upon. Take for instance our line of daisy chain duplicators, in which the user can connect a near unlimited number of towers to operate copying a single master simultaneously across all towers, for the ultimate in productions. Customers of our previous systems have been very happy with the units, but we noticed there were some ways we could improve the systems, such as increase the duplication speed on the Blu-ray models, greater burning stability across all towers to greatly reduce the risk of failed burns, and easier to connect the towers and operate as a daisy chain system.
The original Vinpower Daisy Chain models could only burn Blu-ray discs at a maximum 2X speed. The new Daisy Chain models have tripled the speed up to 6X. Due to the large capacity of Blu-ray discs, the increased maximum speed would reduce the total burn time by almost 50%, which means you can complete your job in nearly half the time.
The new Daisy Chain towers boasts an upgraded controller and connections between systems, which enables the individual towers to not only burn faster, but also smoother and easier than the original models. In creating a smoother burning process creates a more stable duplication environment dramatically reducing the risks of failed burns across the towers. Even if there is one or two failed burns, the new daisy chain duplicators will not allow those failed burns to negatively impact the rest of the drives across the other towers in the chain, maintain a much higher success rate.
With the new daisy chain connections across each tower, it's easier to connect and initiate each round of copies across the new daisy chain systems, increasing efficiency and time management.
So if you're looking to swap out your older systems or need new systems to increase your production capacity and increase your ROI, the NEW Vinpower Daisy Chain Duplicators are the way to go.
For more details about this product or any product in the Vinpower offering, please visit our website at www.vinpowerdigital.com, or contact a representative near you.