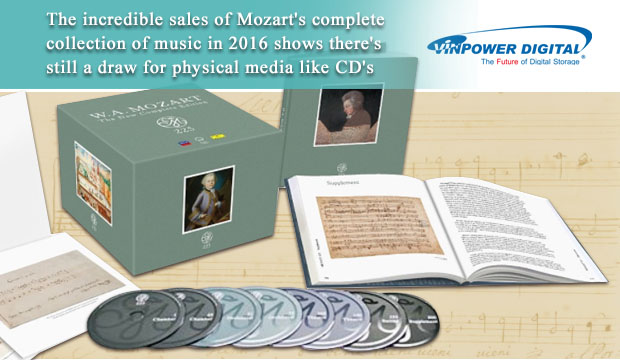 The best-selling CD of 2016 was from an artist who hasn't played/composed a note in over 300 years. Wolfgang Amadeus Mozart is one of the most popular artists to have ever lived. In 2016, "Mozart 225: The New Complete Edition" was released as a 200-CD box set, featuring every known piece of music ever written by the iconic composer. According to Billboard, unit sales have surpassed 1.25 million. Even though the sales are slightly skewed since Billboard counts each individual disc separately, the total CD sales volume is still incredibly impressive. Mozart's endurance in the musical arena has once again proven just how beloved he remains amongst both music aficionados and casual music fans, but shows us an even bigger perspective.
What this tells me is that not only are physical optical disc media like CD's still very relevant today, even in a declined state, but the more creative you are at creating packaging and offering content, the more valuable that media would be the marketplace. The key isn't that 1 million people purchased a Mozart CD, because that's not reality. It's that over 6,000 people shelled out a significant amount of money to purchase a box set of 200 CD's, which was equivalent to 1 million sales if not greater due to the value add price tag on such a box set.
This is a very encouraging sign to duplication houses and independent studios in that the more of a novelty you can make your product, the more likely to be able to sell it at a premium price. People still like conversation pieces and novelty items, so with some creativity, targeted marketing, and the right equipment and media, anyone can produce content that can be a juggernaut in the retail arena. Along with that, once again, this proves that CD's are not dead and neither are the people that buy them, even if the artist on the CD is.
For more details about Vinpower and our expansive product line, please visit our website at www.vinpowerdigital.com, or contact a Vinpower representative at a location near you.