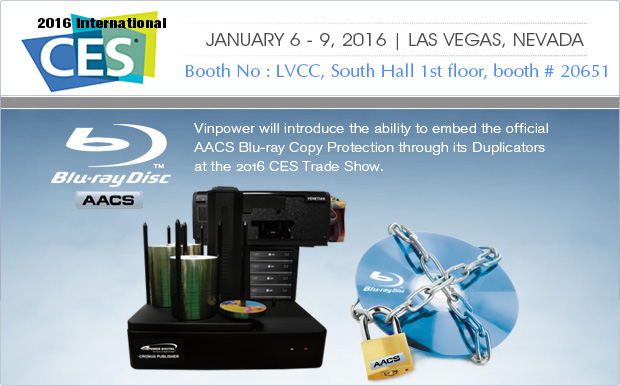 Vinpower will showcase their latest advance in the field of optical media duplication, official AACS Blu-ray Copy Protection through Duplication, during the CES trade show in Las Vegas, NV, the week of January 6th – 9th, 2016. Presently, if you want to embed AACS Copy Protection, which is the only recognized copy protection by the Blu-ray Disc Association, onto your Blu-ray content, you had to go through the replication process. Replication differs from duplication in that replication requires very costly large scale equipment that uses dyes and plastic to physically manufacture an optical disc. Duplication, uses very inexpensive hardware that can easily fit on a personal desk and uses recordable optical discs that are readily available. For replication, there's typically a sizable minimum order quantity, while duplication you can make as few as 1 single copy with no greater expense or time.
So, whether you need to make 1 or thousands of copies of a Blu-ray master content, utilizing the easy to use and inexpensive to operate method of duplication is the easier and more obtainable choice. As Vinpower prepares to release Blu-ray duplicators with the ability to embed true AACS Blu-ray Copy Protection through them, production studios or independent videographers of all sizes can quickly and easily produce Blu-ray content that can offer the same protection as more costly replicated discs.
For more details about Vinpower's AACS Blu-ray Copy Protection or any of our offerings, please visit our website, www.vinpowerdigital.com, or contact a Vinpower representative near you.