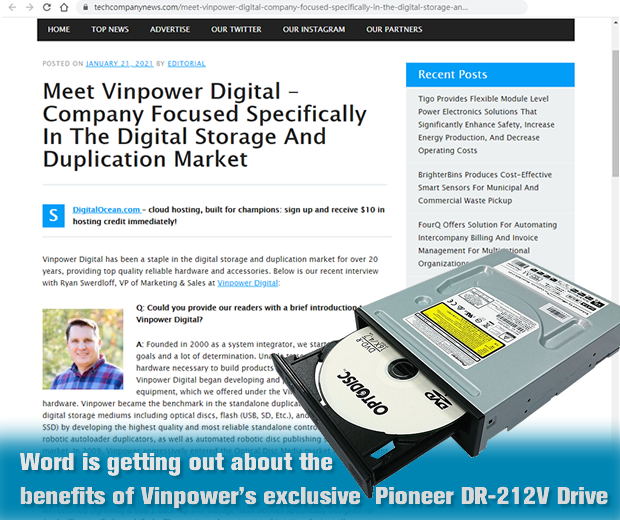 Vinpower Digital announced the release of the new Vinpower exclusive Pioneer BDR-212V 16x internal BD/DVD/CD Half Height Optical Disc Drive (ODD), in collaboration with Pioneer Corporation, last month and people are taking notice. Because of the BDR-212V's added DVD±R enhancements, we have had a number of requests for these drives from duplication houses and studios that create a lot of single layer DVD content. We found they were tired of high failure rates after only a few months of operation or customers complaining about the heavy burn-in marks on the recording side of the disc, saying they looked unprofessional. The BDR-212V virtually eliminates both concerns as the drive can be rebooted when seeing higher failure rates to return to peak performance and it virtually eliminates the uneven symmetrical burn-in marks on the disc's recording side of single layer recordable DVD's (often referred to as Donut Rings).
After the press release for the BDR-212V drive, we had a number of inquiries related to the drive, including the below press interview that was released last week:
https://www.techcompanynews.com/meet-vinpower-digital-company-focused-specifically-digital-storage
You can find the original press release through the following link:
https://www.prweb.com/releases/vinpower_digital_announces_the_release_of_pioneer_bdr_212v_drive
To learn more about the BDR-212V drive, contact Vinpower Digital directly, or visit
https://www.vinpowerdigital.com/products/pioneer-bdr-212v for more insight about the drive's benefits and specifications.
For more details about this product or any product in the Vinpower offering, please visit our website www.vinpowerdigital.com, or contact a representative near you.
Interested in this article? Click on the following link to read this and all previous email blasts and interesting related content from Vinpower's official Blog: https://blog.vinpowerdigital.com/