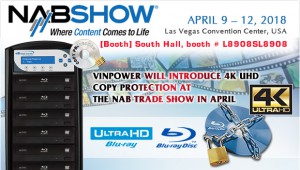 Vinpower will enhance its current line of copy protection for video content on optical discs to include the latest offering of Ultra High Definition 4K & 8K Blu-ray. As the market evolves to embrace the incredibly dynamic visual and sound quality of the 4K and 8K format, Vinpower will be there to help protect your creation with a comprehensive anti-rip and anti-copy method of digital protection. This will be especially useful in the manufacture on demand (MOD) market where replication is not feasible or too costly.
To learn more about this offering and how it can be useful for your business or production, visit Vinpower's booth at the NAB trade show at the Las Vegas Convention Center, April 9th – 12th, 2018 in South Hall Lower Level, booth # SL8908.
For more details on any of the products that Vinpower carries, please visit our website at www.vinpowerdigital.com or speak with an official Vinpower representative near you.