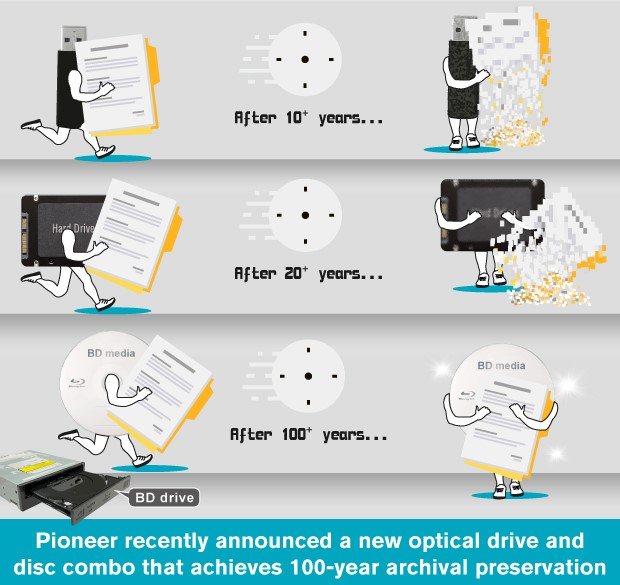 All over the world, it's increasingly necessary and in some cases mandated to keep accurate archived records that can be accessible and available for a specific amount of time. That timeframe is often longer than many standard methods of data storage can manage, such as hard drives, flash, tape, even many forms of optical discs cannot be trusted to last long enough to meet certain government archival standards.
That's why Pioneer created a new combination Blu-ray drive and 25GB BD-R disc combo package that is guaranteed to last 100+ years under proper storage conditions. They are able to achieve this by fine tuning both the drive and disc to burn the content onto the disc in such a manner that it will not decay or fade for at least 100 years.
Optical discs are naturally better solutions for archiving due to having the lowest cost per byte of data, strong resilience to elements, drops, and magnetic or static forces, plus it can be stored in a manner that doesn't require energy or special accommodations. All of this plus more make optical discs the ideal storage solution, and with new advances pushing the archival capabilities to 100+ years, makes them the de-facto king of storage.
Vinpower is also on the cutting edge of data storage and archival capabilities. If your company needs storage solutions that won't break the bank, contact us today.
For more details on any product Vinpower offers, please visit our website at www.vinpowerdigital.com, or contact a representative near you.
Interested in this article? Click on the following link to read this and all previous email blasts and interesting related content from Vinpower's official Blog: https://blog.vinpowerdigital.com/