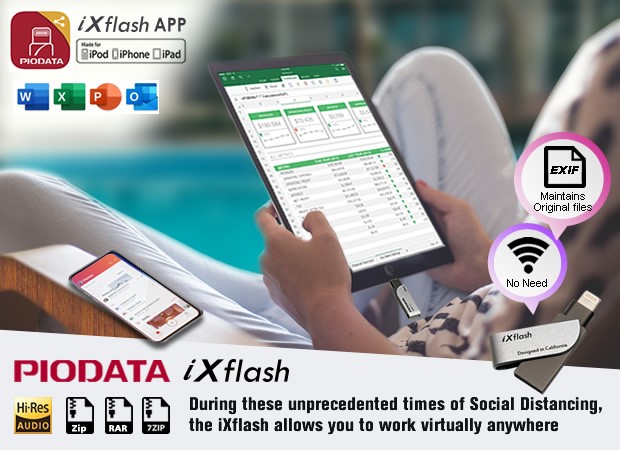 As most of the world is focusing on staying safe and adjusting to isolating themselves and their families, businesses are trying to find ways for their employees to work remotely in order to help stem the tide of the COVID-19 pandemic. In an unprecedented time, we are all looking for ways to remain vigilant, yet safe. However, for many professionals, especially from small businesses, closing up operations for weeks or months could mean there will be no business to return to. That's why Vinpower is focused on helping those businesses and professionals by providing tools that will allow their workers to continue to function and remain productive, even when working remotely outside the office.
One such tool is the iXflash, combination Lightning mobile iPhone / iPad and USB flash drive. Amongst the many features offered by the iXflash, it can also become a portable external hard drive that allows the transference and operation of files between computers and mobile devices, in particular iPhones and iPads. Apple products, like iPhones and iPads, have notoriously stringent security protocol and do not offer the ability to added external storage. For this reason, it makes these devices both safer from hacking and limited in the ability to fully operate in a working environment as a PC. With the iXflash and it's App, users can transfer content and files back and forth between their work computers and their iPhone / iPad in order to work seamlessly across a multitude of file types. The iXflash allows users to open typical files like WORD, Excel, PowerPoint, etc. as well as opening or even creating compressed files, like .zip files, including with password protection. The iXflash and the iXflash App allow users to maintain their work environment remotely, even if they don't have access to their work computer or server. The iXflash allows users to maintain work efficiency, even if they do not have internet access.
With storage capacities ranging from 32GB up to 512GB, you can see why we state the iXflash as a portable hard drive, like a mini SSD drive for your mobile device. The iXflash offers those forced to be isolated to expand their boundaries and work in areas outside the office or their home that are both safe and productive.
For more information about the iXflash or any of the products Vinpower offers to help individuals and businesses maintain productivity, visit www.vinpowerdigital.com,or speak with a Vinpower representative in your area.