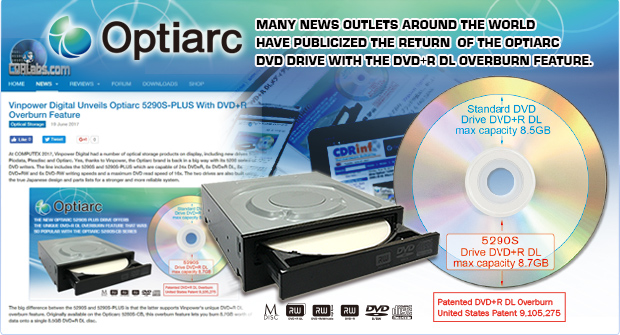 Recently, I wrote an email blast, proclaiming the return of the Optiarc drive and the DVD+R DL overburn feature, with the Optiarc 5290S PLUS drive. It appears we weren't the only ones excited about the Optiarc 5290S PLUS and the overburn capabilities. There were a number of prominent online news organizations from different locations across the globe, that took it upon themselves to write about the announcement of this drive. Some of them were able to see for themselves after visiting our exhibition at the 2017 Computex tradeshow in Taiwan, while others picked up on my email blast and ran with the story from there. In any event, we are very proud and encouraged that there is so much excitement for the new Optiarc 5290S series of drives all over the world.
Here are a few links to some of the articles recently released about the Optiarc 5290S PLUS drive:
http://pc.watch.impress.co.jp/docs/news/1065921.html
https://nl.hardware.info/nieuws/52290/computex-optiarc-en-plextor-dvd-branders-zijn-terug
http://www.cdrlabs.com/news/vinpower-digital-unveils-optiarc-5290s-plus-with-dvd-r-overburn-feature.html
http://www.cdrinfo.com/Sections/News/Details.aspx?NewsId=53834
For more details about the Optiarc line of drives or any of Vinpower's product lines, visit www.vinpowerdigital.com, or speak with a Vinpower representative in your area.