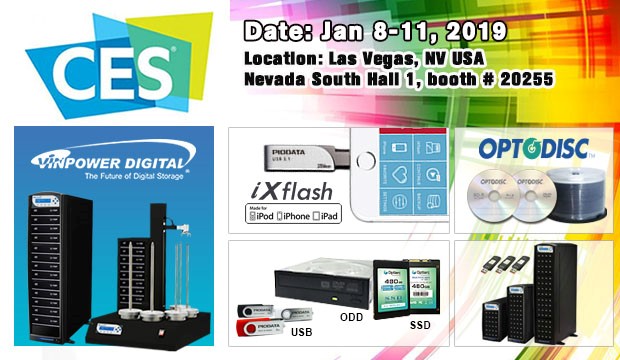 CES 2019 is quickly approaching and it's a great time to schedule an appointment to meet with Vinpower during the show. Vinpower will showcase their latest advances during the CES trade show in Las Vegas, NV, the week of January 8th – 11th, 2019. In addition to new and improved products related to optical discs and flash, but we will also showcase prototypes and introduce new ventures we've recently developed or acquired.
If you'd like to be one of the first to learn more about these new offerings, you'll have to visit with us at our booth, located in South Hall 1st floor # 20255, during the CES tradeshow. We look forward to seeing everyone there to share these and many other new opportunities in the New Year!
For more details about Vinpower's offerings, please visit our website www.vinpowerdigital.com, or contact a Vinpower representative near you.