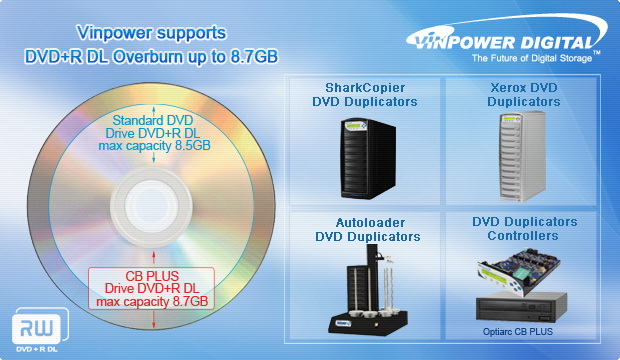 The duplication market is constantly in flux. We have seen once dominant companies in the industry going out of business or changing their focus, which makes it harder for those who rely on duplication for their livelihood or simply need reliable methods for making occasional copies, to get the right products for their needs. Surely, one can find duplication equipment online easily, but many of those selling such equipment are settling for inferior equipment in order to minimize costs or their previous suppliers are no longer in business.
Fortunately, Vinpower remains strong and committed to the duplication market by ensuring that all of our duplication products meet our high standards. That includes maintaining leading edge features such as the ability to overburn DVD+R DL media beyond the standard spec of 8.5GB, up to 8.7GB.
The reason for this enhanced feature is that many who use DVD+R DL discs often find that the content they intend to copy is often just slightly larger than 8.5GB's. This will make the duplication process fail in most other equipment; however, using a Vinpower DVD SharkCopier, TITAN, Aero, Cronus, or any of the Xerox Duplication line, allows the user to push past the listed 8.5GB media capacity limitation up to a more than adequate 8.7GB. Even though 200MB may not seem like a significant difference, for those that have a project they need to copy that is even just 5MB larger than 8.5GB, it makes all the difference in the world.
For more details, check out www.vinpowerdigital.com or contact a member of our sales team from any of our offices in the USA, Taiwan, China, or Europe.