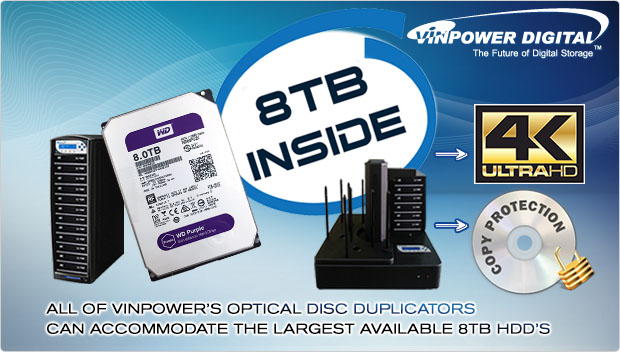 The fact that an 8TB hard drive exists is quite amazing, given that magnitude of the content that could be stored on that drive. So the fact that all of Vinpower's optical disc duplicators, manual towers and autoloaders, can utilize the 8TB HDD to store projects/jobs, is also an impressive feat. It's also fair to think, why would anyone need such a large HDD inside a duplicator.
When you think about the fact that content is getting larger and larger, for instance, UHD/4K content could be over 100GB per disc, then it's easy to see how a user would need a much greater amount of space to store each project for future duplication jobs. Couple that with Vinpower's new Blu-ray Copy Protection (BCP) feature, where the protected files would need to reside on the HDD to make additional protected copies without requiring additional licenses, and the amount of space needed could add up quickly.
Regardless of whether you'll need an 8TB HDD for your duplicator or not, the key is that Vinpower strives to stay ahead of the curve and is constantly expanding the boundaries of what's possible for our duplication hardware.
For more details on any of the products that Vinpower carries, please visit our website at www.vinpowerdigital.com or speak with an official Vinpower representative near you