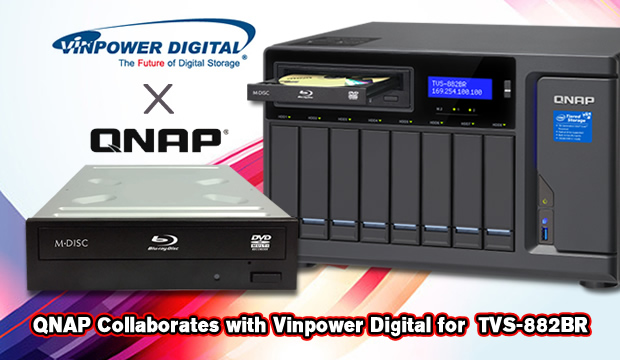 QNAP Systems, Inc. partnered with Vinpower Digital, a leading supplier in Optical Disc hardware and media solutions, to integrate Vinpower's industrial-grade blu-ray optical disc drive for the TVS-882BR Blu-ray NAS series, allowing users to write NAS-based content directly onto CD, DVD, or Blu-ray optical discs as an additional back-up solution.
The TVS-882BR series provides an excellent solution for storing large amount of digital contents and allows for easy sharing through a network. However, it's always recommended to follow a "3-2-1" rule when storing digital content. The "3-2-1" rule represents having at least three copies of your data, of which two should be stored on two different media and one backup copy should be kept offsite. This rule is specifically designated for protecting against natural disasters that could potentially destroy all property and data stored in an affected region. That is why QNAP had the foresight to also include a Blu-ray writer drive onto theTVS-882BR Blu-ray NAS series.
By integrating Vinpower's industrial-grade Blu-ray writer drive, QNAP TVS-882BR series allows users to create a backup copy onto virtually all formats of optical discs, such as CD, DVD, and Blu-ray discs (including the 100GB+ BDXL media) that can be safely stored offsite. Optical discs are made from plastic with an archival grade hard coating, ensuring the backup data will not degrade or be susceptible to the elements, thus providing a longer archival offering."QNAP is excited to work with Vinpower Digital in integrating the industrial-grade Blu-ray writer drive," said Dan Lin, Product Manager of QNAP. "Vinpower has been a leading innovator in the field of optical disc hardware for over 20 years and has been integral in working with QNAP to add optical disc burning capabilities that meet QNAP's high standards for reliability and longevity," Lin added.
"In the past year, we've seen a number of natural disasters that have destroyed whole communities, making storing content in a single location alone highly dangerous and susceptible to complete data loss," said Ryan Swerdloff, Vice President of Vinpower Digital. "Utilizing the optical disc writer drive on the TVS-882BR series provides an added layer of protection not found on most common NAS back-up solutions. In essence, it's an added level of insurance added to an excellent secure storage solution, similar to getting earthquake or flood insurance on top of your standard home insurance policy. You may never need to use it, but should the worst case scenario happen, you'll be protected and relieved you had it."
For more details about the TVS-882BR Blu-ray NAS series press release, click on the following link:
https://hexus.net/tech/items/network/111923-qnap-collaborates-vinpower-digital-tvs-882br/
For more details about Vinpower's full product line, please visit www.vinpowerdigital.com or speak with a Vinpower representative near you.