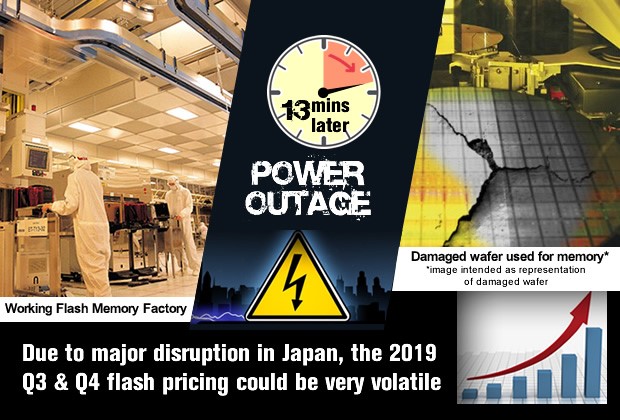 A 13 minute power outage in the Yokkaichi province in Japan on June 15, 2019, derailed two key flash memory manufactures. Due to an unforeseen blackout, Toshiba, which is the # 2 global supplier of Nand flash memory at approx. 20%, and Western Digital, which fluctuates between the 3rd and 4th largest supplier at approx. 15%, now find themselves struggling to compensate for what could be significant loses in wafers that were in production during the time of the blackout. Add that to a growing trade war between Japan and South Korea, the two leading countries as it relates to flash memory and semi-conductor production, in which each is withholding critical components to the other for the production of flash memory, and it all spells a prolonged and volatile market for flash memory in the near future.
One of the reasons for flash pricing to be so volatile, even before it's reflected in street pricing of the flash media is that the time frame to produce the wafer dye that is used to create the flash memory is a long process that can take months to fully produce. So when production is underway and then a seismic event like a total prolonged power loss happens, it could effectively wipe out months of progress and force the factories to start over. That means a huge amount of flash memory that was intended for the market is ruined and that there will be a gap in time between when that production can be replaced. Because that flash was intended to be used in the future, and no one knows what the true demand will be at that time, there's no way of telling what the full affect will be right away. For that reason, it sends the market into a panic and those that have flash inventory are steadily increasing the pricing or withholding inventory so that it can be used in the future when there may be a shortage.
Add on top of that, growing tension between the two nations that each rely on the other for certain elements in the production of flash memory, then you have a very unstable situation. As South Korea and Japan begin adding restrictions and penalties against the other, it greatly affects the business communities on both countries, especially as it relates to semiconductors and related products.
With the current instability, the market can expect to see shortages and increased prices when it comes to consumer related flash products, like USB, SD, and SSD, especially. I don't know how long this could last or what the full affects will be, but for certain, the relative stability and decreasing pricing on flash look to be taking a dramatic reversal.