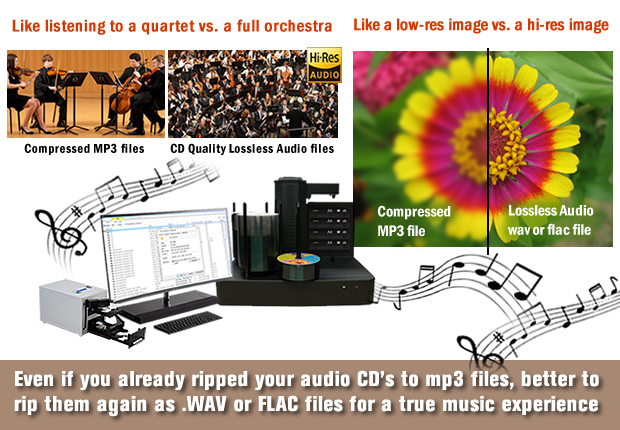 The ability to rip audio music files from a CD onto your computer has been available for around 20 years now. If fact, many like myself, used iTunes to transfer content from their CD collection to their iTunes library years ago. However, the problem is that iTunes and many other ripping software often compressed the files tremendously to make them smaller and easier to store. That compression may make it easier to store a lot of music onto a hard drive without using much space, but to do so, you inevitably will give us significant sound quality at the same time. Sure, the song will sound fine, but when you compare it to the original uncompressed CD, the original audio CD sound quality is much richer and fuller.
As hard drive capacities became bigger and bigger and the price dropped lower and lower, capacity was no longer a luxury. Now with multi-Terabyte hard drives available for very little money, everyone can afford to upgrade their music collection to the true lossless audio files with .WAC or flac files. Then you can hear the music the way the artist intended and get the full auditory experience!
With Vinpower's low cost RipBox or high capacity Cronus, you can rip your CD's again with virtually no hassle! You wouldn't watch a movie with chunks of background scenery missing, so why listen to partial music? Upgrade your music library today!
For more details about this item or any products that Vinpower offers, visit www.vinpowerdigital.com, or speak with a Vinpower representative near you.