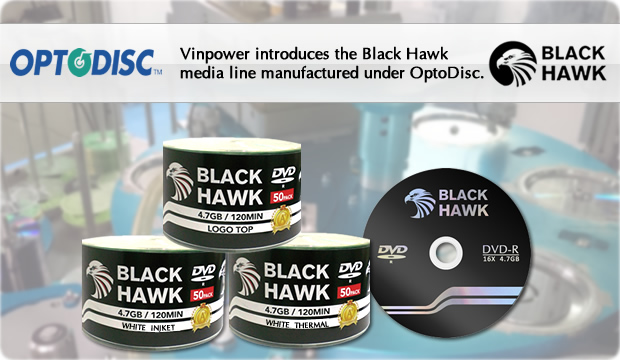 Vinpower developed the Black Hawk line of OptoDisc media for the duplication market as an alternative for the traditional brands in which the quality is not as good as it used to be. With Vinpower's strict quality control and the OptoDisc stringent manufacturing process, the Black Hawk media line is gaining a strong reputation across those with high volume duplication needs. The Black Hawk line of media offers all the benefits of our full OptoDisc line, including:
• Made in Taiwan, for better quality and reliability
• Aggressive price point to meet any budget
• Wide printable surface covering 23mm to 118mm on CD & DVD
• Superior printable surfaces for both inkjet and thermal printers
• Glossy water and scratch resistant inkjet printable surface available across full line of media formats
• Backwards compatible, so the Optodisc media line is recognized and supported through older legacy drives for optimal compatibility.
There is so much more to discover about Vinpower's Black Hawk media line, you should see the benefits for yourself.
For more details on any of the products that Vinpower carries, please visit our website at www.vinpowerdigital.com or speak with an official Vinpower representative near you.