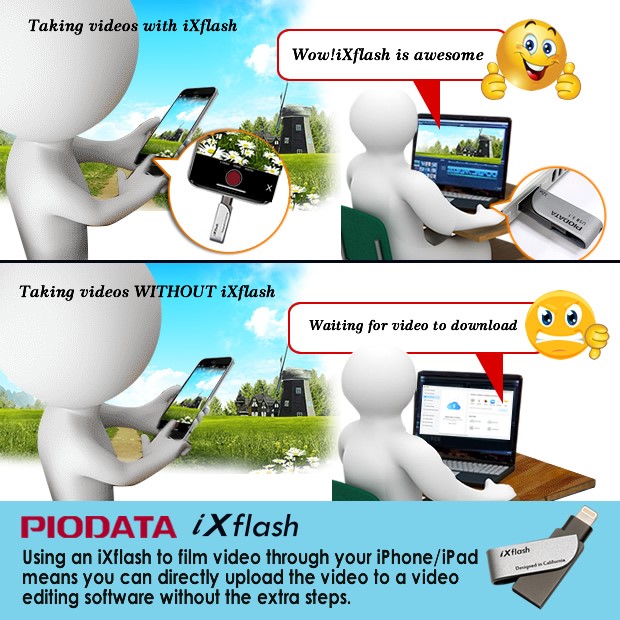 Video content is everywhere and we're all creating it through our phones and tablets. Whether you're creating video content for social media, online retail listings, entertainment, home videos, etc., if you're creating the content to post, then frequently that content has to be transferred to a 3rd party video editing software to create the final cut. To do so, more often than not, means the user has to then find a way to download the raw video footage onto the device with the video editing software and that could be a full production in itself! Why go through the hassle when the iXflash makes it so easy?
For example, I often make videos of our products that we sell through various online retail sites, such as Amazon. In the past, I would use my iPhone to film the content, then I would need to either upload that video to the cloud and then download the file from the cloud to the computer I was using to edit with, or I would need to connect my iPhone to the computer, download the file through iTunes or another software and then upload that file again to the editing software. It's time consuming and a hassle.
With the iXflash, I simply connect the iXflash to my iPhone, open the iXflash App and select the "CAMERA" function, and film whatever project I was working on as I ordinarily would with my iPhone camera function. When I'm done, all the content I filmed is stored directly on the iXflash drive, which I can then connect to any PC or Mac with the iXflash's USB connection and open the video file(s) directly from whatever video editing software I want to use. There's no waiting or concern about file compatibility. It streamlines the process and I go from shooting the video to editing right away.
If you use an iPhone or iPad to film content as a function of your job, the iXflash is the ideal time and money saver that you don't want to be without!
To learn more about this item, or any of Vinpower's line of products, visit www.vinpowerdigital.com, or speak with a Vinpower representative in your area.