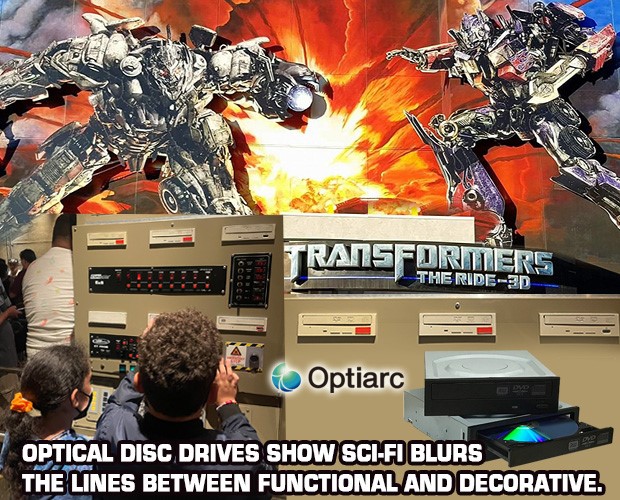 Recently, I took my family to Universal Studios Hollywood to enjoy the movie magic and some thrilling rides. One of those rides was Transformers: The Ride 3-D. While waiting in line for the ride, low and behold, I see a familiar item. Optical Disc Drives installed in the wall as decoration for a fictional US military base used by the military and the Autobots, for protection against the evil Decepticons. Seems I should explain.
One of the great things about Universal Studios is the exceptional detail they put into creating the environments while waiting in line for all of their rides. The ride itself is only part of the experience, given that you spend 10x longer in line than the ride itself. So, while you're in line, you're immersed into the theme of the ride. In this case, the theme is hi-tech mechanical devices, which all of them could be harmless equipment or an actual sentient being that's in disguise.
Since all the decorations are interactive, it was fun to watch my kids harmlessly push buttons and play with devices, like the optical disc drives, which they wouldn't interact with at home. The ride shows me that the designers and engineers behind the ride feel optical disc drives will certainly continue to be relevant in the future, and they make awesome hi-tech decorations as well.
If you need one or many optical discs drives for your own business or personal use, visit www.Vinpowerdigital.com, or contact a Vinpower representative near you. Vinpower is the primary source for all physical optical and digital storage devices and media.