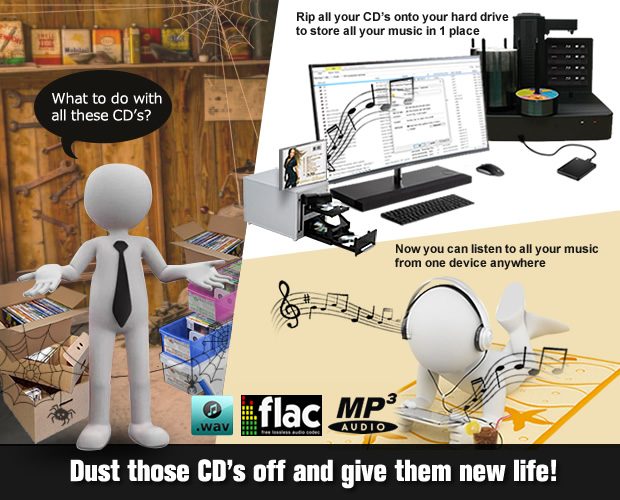 If you're like me, you have boxes of music CD's that you may not have listened to in quite some time. I had boxes of CD's that have been stored in my garage since I moved into my current house, 11 years ago. In a world full of music streaming services, it's easy to just forget about dragging out your CD's to listen to the same way we did in the past. At the same time, I have some really great music in those boxes that I'd love to listen to, but I don't have the time or the opportunity to dig through the boxes to find that song or album. What can I do, I love music and feel like those CD's are a soundtrack to my life, you can't just toss it out like garbage.
That's why I took all those CD's and ripped them to a large capacity USB flash drive, so I can have the digital files available anytime anywhere I go. Using our Ripbox and Cronus, I was able to set up the discs on the unit and walk away. Once I came back, all my discs were stored onto my hard drive with all the meta data (disc information, like album title, artist, song title, and much more).
Now all the music from my CD's are stored in 1 convenient place, so I can look up songs by artist, genre, album, etc. and make my own playlists on the spot, easily and in virtually no time at all. So if I want to make the ultimate 80's playlist, or my own Billy Joel greatest hits compilation, or even the perfect workout song list based on beats per minute (BPM), I can do it all from one place. The best part, I can change the playlists anytime I want and all the music will always be available to me when I want it.
For more details on this product or anything Vinpower sells, visit www.vinpowerdigital.com, or speak with a Vinpower representative near you.