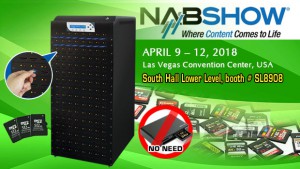 The SD card is not as popular as USB for common storage needs, yet it's the main go to media for compact storage in devices like cameras, phones, tablets, navigation, and similar devices. The obvious benefits of SD cards and MicroSD cards are their minute sizes, which they can hold massive amounts of memory and fit in very small devices. Currently, the typical read speed widely ranges between 2MB/s (used for basic files and standard definition video recording) up to 90MB/s (which is critical for true 8K video recording).
However, WD is blowing the doors off the current notion of read/write speeds for SD cards and the ability to use them for a wider variety of applications in video content. By demonstrating writing speeds nearly 5 times faster than the fastest offering now, means we are just scratching the surface of the capability for SD cards. The higher the capacity and the faster the read/write speeds we can achieve, means the more devices that can possibly replace their current storage method with SD cards.
Since all flash memory, including SD cards can only transfer content via duplication, as opposed to optical discs which can use replication as well as duplication, means that devices like Vinpower's 127 slot SD duplicators will be in greater demand. The benefit of a dedicated SD duplicator is the cost savings from not having to purchase SD to USB adaptors to run on a USB duplicator. Plus with Vinpower's dedicated standard SD and separate MicroSD card slots, there's no need for MicroSD adapters either.
Check out Vinpower's SD duplicator offerings and much more at the NAB trade show April 9th – 12th, at the Las Vegas Convention Center, South Hall Lower Level, booth # SL8908.
For more details about any of Vinpower's products, services, or support, visit our website: www.vinpowerdigital.comor or speak with a representative in your area.