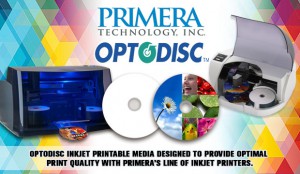 When you're printing on inkjet printable discs, you want to make sure that the print quality of the discs matches the capability of the printer you're using. That's why Vinpower worked to develop a line of OptoDisc inkjet printable media that were developed to showcase the exceptional print quality of the Primera line of inkjet printers, including the latest Primera Bravo SE-3 and 4200 series printers. Because most media manufacturers don't focus on fine-tuning their inkjet printable media towards specific printers, their media often doesn't have the brilliance and brightness of color that is capable from the disc printer the customer is using. Because Vinpower is deeply involved in the development and manufacture of virtually all aspects of duplication hardware and media, we know the importance of matching the disc resolution with the output of each printer manufacturer.
The Primera Bravo series are the most widely used inkjet disc printers in the world, which is why Vinpower felt it was important to develop a line of inkjet media that can optimize their incredible print speed and resolution. So if you own a Primera printer and want to get the best results from your printed media, make sure you use the OptoDisc inkjet printable media that was optimized for the Bravo series of printers.
For more details about this product or any of Vinpower Digital's range of hardware, software, and media offerings, visit our website, www.vinpowerdigital.com or speak with an authorized Vinpower representative near you.