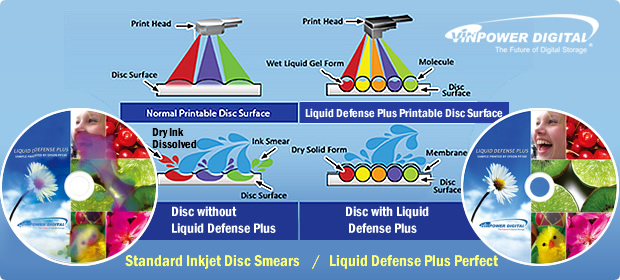 With Taiyo Yuden's exit from the media business, Vinpower's line of OptoDisc media has proven to provide a strong and reliable alternative. In fact, Vinpower's line of Liquid Defense Plus, the water and scratch resistant glossy media line, which includes CD-R, DVD+/-R, DVD+R DL, 25GB BD-R, and 50GB BD-R DL versions, provides an exceptional print quality that is as good if not better than a full color thermal print. Even better is that the total cost per print for a disc is lower with the Liquid Defense Plus than with a full color thermal printed disc.
Around the world, Inkjet printing is still the primary print method for labeling optical discs. Even though the printers can apply photo quality artwork, if the discs are just standard inkjet printable media, the actual printed image is not protected and can easily smear, fade, or bleed. The best way to prevent that is by using the Vinpower line of Liquid Defense Plus media, which uses special nano-particle molecular technology to seal in the ink and prevent moisture or other factors to disrupt the image.
As the image shows, the nano-particle molecular technology prevents the ink from separating and holds it in place, regardless of the amount of water or moisture that comes in contact with it. So if you really care about the look and longevity of your printed media, Vinpower's Liquid Defense Plus is the best solution for you!
For more details on any of the products that Vinpower carries, please visit our website at www.vinpowerdigital.com or speak with an official Vinpower representative near you