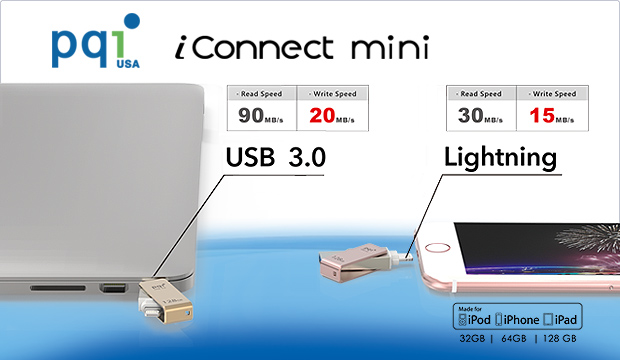 The iConnect Mini is an ideal companion for owners of iPhones with a lightning connection as it provides up to 128GB* of added storage, backs-up photos and videos with Apple Touch ID protection, and easily transfers content quickly between your iPhone and a computer or tablet through its high speed USB 3.0 connection.
INCREASE iPHONE'S STORAGE CAPCITY
The iConnect Mini expands your iPhone's storage capacity, especially on the lower capacity 16GB iPhones. The iConnect Mini allows you to take more high-resolution 12 megapixel photos, live photos, 4K videos, and store them directly in its memory without using up precious storage on the iPhone's internal memory. The iConnect Mini has an extendable Lightning connector that allows it to stay connected to an iPhone without needing to remove the exterior protective casing.
INSTANT ONE-BUTTON BACK-UP
The iConnect Mini allows the user to backup images and videos with the push of a single button. The iConnect Mini is so fast that it can back-up over 1,000 pictures captured through the iPhone camera and transfer it to the iConnect Mini in just over 4 minutes.
TRANSFER BETWEEN ALL YOUR DEVICES
iConnect Mini lets you easily transfer and share files on all your devices without needing to interface through iTunes or iCloud. Share content stored on your iPhone directly to your computer or from your computer on to your iPhone, via the iConnect with dual-interface USB3.0 and Apple-certified Lightning connector. Easily back-up your data from your iPhone to your Mac or PC, or transfer media and other files from your Mac or PC onto your iPhone.
MADE TO MATCH YOUR iPHONE COLOR
The sleek and modern design of PQI iConnect Mini is made to match your iPhone with matching metallic finish to pair it with your gold, grey and rose gold device. The 360 rotating cap conveniently protects the connector when not in use and can be attached to a keychain or carrier for easier transport and storage.
APPLE CERTIFIED
The PQI iConnect are engineered to meet Apple's design specifications and are MFI (Made for iPhone/iPad/iPod) Certified.
For more details about the iConnect Mini or any products Vinpower Digital manufactures or distributes, please visit our website or contact a Vinpower representative in your area.