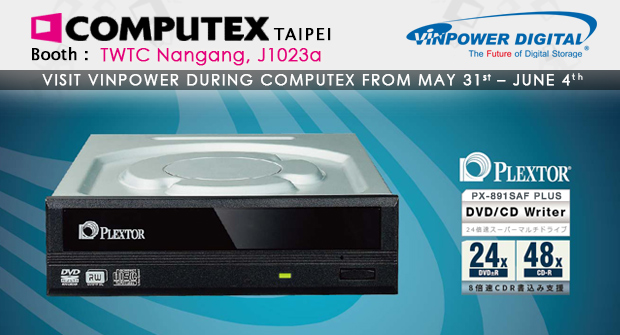 Vinpower is proud to be the exclusive supplier of the high quality duplication grade internal Half/Height DVD/CD Plextor PX-891SAF ODD. We are very excited to announce an improvement to the line by introducing the Plextor PX-891SAF PLUS model during the Computex trade show. If you are planning to attend the Computex show in Taipei, TW, please stop by our booth and be the 1st to witness the latest in Vinpower's line of Duplication caliber writer drives.
Vinpower's booth is located at TWTC Nangang, J1023a
For more details on any of the products that Vinpower carries, please visit our website at www.vinpowerdigital.com or speak with an official Vinpower representative near you.