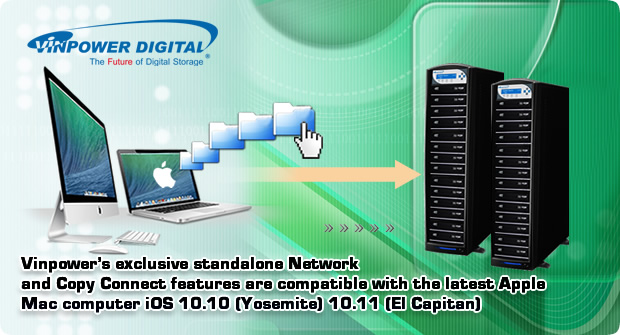 Vinpower was the first to offer a true drag and drop feature in 2010 for our Standalone duplicators so that users could connect their duplicator to a computer and drag a file from the computer to the duplicators internal HDD. From there we advanced the capability to make this feature available via the network so a company could easily send files from any number of computers or a network server to the duplicator's HDD. At first this was limited to PC's only, but after much effort, we were able to offer this feature for those particular to Apple products, in particular the Mac users.
However, computer operating systems are continuously being upgraded to provide new features and make them stronger against viruses and hackers. This benefit to the user creates a legitimate problem for companies that make hardware that interacts with the operating systems in order to allow the computer to work with or function through the device. That's especially true with Apple and their limited access to their iOS. Vinpower recognizes the importance of making sure all computer users can utilize the key features of our exceptional duplicators so we continue to manage our FW updates to ensure the Drag and Drop and Network features also work with the latest Mac iOS versions.
With that said, Vinpower is proud to announce that our Network and Drag and Drop features will work with the current Mac iOS 10.10 (Yosemite) & 10.11 (El Capitan).
For more details on any of the products that Vinpower carries, please visit our website at www.vinpowerdigital.com or speak with an official Vinpower representative near you.