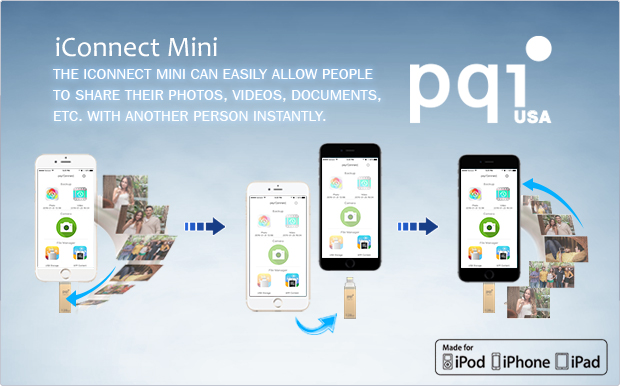 Picture this scenario. You're at an event, maybe your child's school performance, a concert, sporting event, or on a holiday. You're taking tons of pictures and videos with your iPhone or iPad. A close friend or family member who's with you saw your pictures and videos and wished they could have a copy for themselves. Without the iConnect Mini, you would have to go through the hassle of downloading the pictures onto a computer, tethering your phone so it's unusable during the process, then going through your hundreds or even thousands of photos to find the few that you plan to pass along to that friend. Once you selected the pictures, then you have to transfer those photos onto a disc or a pen drive in order to give them to that friend. The friend may lose or forget to give back the pen drive, wasting your time and now you lost a perfectly good pen drive. The other option is to email each picture, 1 at a time due to size limitations, until you've sent all the pictures they want, then your friend has to open all of the emails and download each picture individually back onto their phone or computer. Of course for videos, you can forget email because they are too large to send.
There's a much simpler way, just connect the iConnect Mini into your iPhone or iPad, transfer the pictures & videos with one button onto the iConnect Mini, then connect that same iConnect Mini into your friends iPhone or iPad using the Lightning connection and easily transfer the exact pictures, videos, documents, etc. that you want to share with them directly onto their mobile device and viola, you're done. Instantly and hassle free, you are able to share images while still in the moment. If your friend doesn't have an iPhone or iPad, then you can use the USB3.0 connection and transfer those files directly to their computer. If there are any pictures or files you don't want anyone to have access to, you can easily use the Touch ID security to encrypt the files and prevent others from being able to see or access them from a mobile device or through the computer.
The iConnect Mini is the perfect accessory for anyone with an iPhone, iPad, or iPod, especially those that like to take and share pictures and videos with friends, family and loved ones. For more details on the iConnect Mini or any of our line of mobile accessory products, please visit our website at www.pqiusa.com or speak with an official PQI USA or Vinpower Digital representative near you.