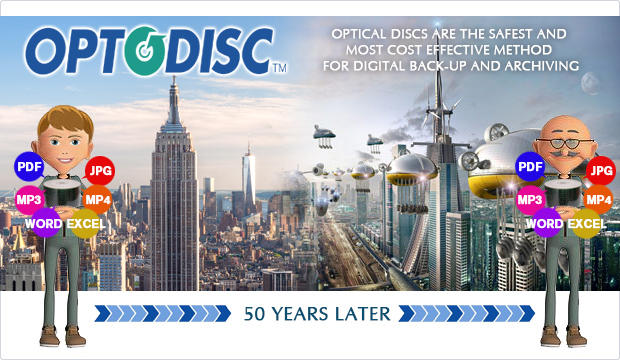 I've spoken on this topic before, describing why maintaining important digital files, like photographs, videos, financial documents, legal documents, etc., should be backed-up onto optical discs rather than just maintained on a hard drive or stored in the cloud. I'd like to further illustrate the importance and ideal method for archiving digital content onto optical discs.
Firstly, why are optical discs safer than archiving that content onto a flash, hard drive, or in the cloud? The main reason is the fact that the content on optical discs cannot be overwritten or erased. In addition, optical discs cannot contract a virus or be the subject to a remote data breach. Write once optical discs are permanent and as long as they are safely stored, the content will remain intact for many years to come without worrying whether someone could remotely access, alter, or delete your most important files. In the case of flash memory or hard drives, the content could be accidentally overwritten or infected with a virus that could be passed on to other computers.
Secondly, when using optical discs as your archival back-ups, it's best to ensure that you have discs which have been rated for a minimum of 50 years shelf life. If you use low quality media, the content on the disc could oxidize or become corrupted within as little as 3 to 5 years. So if you're using optical discs to back up your important data, make sure that your media is going to hold up. That's why we ensure that Vinpower's lines of OptoDisc media can last at least 50 years under proper conditions.
Thirdly, once you've purchased a suitable media, like OptoDisc, and ensured that you properly burned the content you want to back-up and archive, then you need to store the disc(s) in a location that is relatively regulated for temperature, humidity and UV exposure. The good thing is that by nature, optical discs are fairly small and extremely thin, so it's easy to store a large quantity of discs in a desk drawer or file cabinet. Ideally, the recorded media should be stored at a temperature around 23°C / 74°F with roughly 50% relative humidity and kept in a dark location that is not overly exposed to sunlight. This is fairly easy by simply storing the discs in a protected cake box or paper sleeves inside a drawer or safe.
Lastly, it's important to check the discs every 5 ~ 7 years by simply loading them in a player or computer to ensure they still play and show the correct files. This way, if you start to see any issues with the media, you can easily transfer the content to another disc without losing any data or lowering the quality of the content.
I have had incidents that have happened to me or people I know where the content on their hard drives and even the back-up files on the servers were wiped out because of a virus or hard drive/server corruption. The only reason everything wasn't lost was because I had back-ups on optical discs, otherwise it would have been a nightmare. So it's your choice, but isn't better to spend a short time and some pocket change for the peace of mind that comes with backing up your files on optical discs, or live in denial and suffer the consequences when the unthinkable happens?
For more details on any of the products that Vinpower carries, please visit our website at www.vinpowerdigital.com or speak with an official Vinpower representative near you.