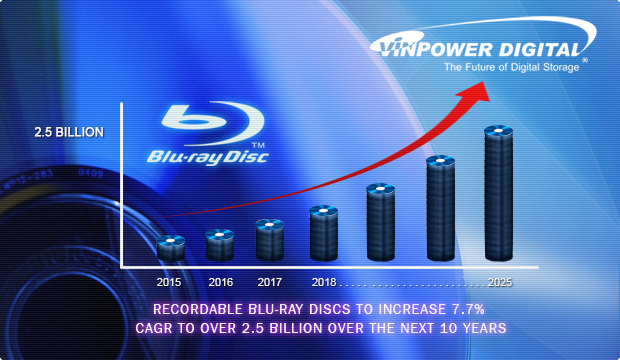 According to a study by Future Markets Insights (FMI), recordable Blu-ray discs sales will increase by a 7.7% compound annual growth rate (CAGR) from 2015 to 2025, for a cumulative volume of over 2.5 billion recordable BD discs sold annually. Currently, recordable Blu-ray discs account for 13% of the recordable optical disc market. That percentage is certain to grow and the primary factors fuelling the demand for recordable Blu-ray discs include an increasing demand for high volume storage discs and content protection against piracy.
Vinpower has been focused on both of these elements for many years as we anticipated this shift years ago. As content becomes larger and the amount of the content also grows, the most efficient and inexpensive method for storing and disseminating that content is through Blu-ray optical discs. We mentioned many times how major companies like Sony, Panasonic, etc. are constantly looking at ways to expand the storage capacity of optical discs, to where a single disc holding a 1TB of data is not far fetch. Now that 4K Ultra HD content is rolling out to the public, the need to 60GB+ to 100GB+ is going to become as common as the 25GB BD-R, dropping the price and making them more affordable for the average consumer.
So if you want to ride the Blu-ray wave of opportunity, contact Vinpower or a Vinpower representative today for more details about our line of Blu-ray media and hardware.