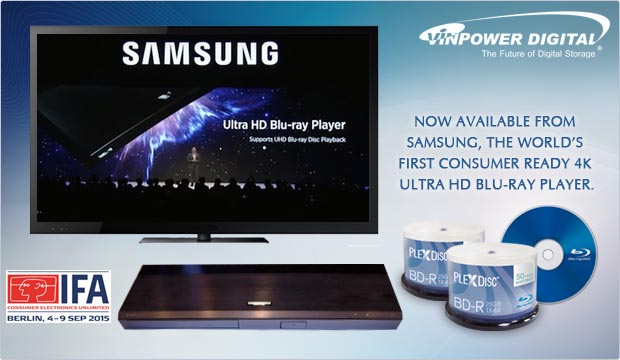 It was only a matter of time before it happened, but Samsung beat everyone else to the punch and announced the world's 1st consumer ready 4K Ultra HD Blu-ray player at the IFA trade show in Berlin, Germany this past week. A number of TV manufactures have already created 4K capable televisions, but Samsung has taken the next step and mirrored the 4k Ultra BD player to have a curved front bezel to match the curved appearance of their 4K TV's, given them both a more uniform look. Previously, 4K content was limited, mostly because there weren't any available players. Now, with the introduction of the Samsung 4K Ultra HD Blu-ray player, to be named the UBS-K8500, scheduled to be commercially available in 2016, the content will come. In fact, 20th Century Fox has already announced that they will be releasing 4K titles for the Samsung player and the many other players that are soon to enter the market.
This is just another example of how optical discs will continue to be an integral element of our entertainment experience and will be relevant for many more years to come. In fact, it's understood that the Blu-ray Disc Association will approve a new 66GB DL disc to handle the larger 4k format capacity. So don't throw out your DVD or Blu-ray movie collection and keep creating content on optical discs, because there will still be optical disc players and there will still be consumers looking for optical disc content to play on them. As these files get larger and larger, it will be harder to stream and still capture the true imagery and sound embedded on the Ultra HD BD discs, so if you want the full experience, optical discs are the best option.
For more details about Vinpower Digital or the products we offer, please contact a Vinpower representative or reseller, and they will be more than happy to assist you.