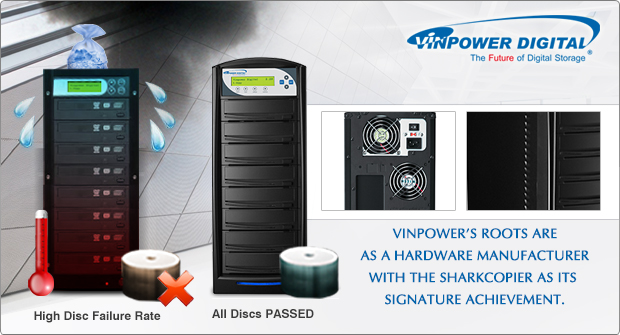 When Vinpower started in 2000, there were already a number of established duplicator manufacturers and suppliers, but Vinpower was determined to make its mark amongst them. However, with minimal funding and a lot of tenacity and determination under its wing, Vinpower set out to make a signature product that would define them and set them apart from the other manual tower suppliers on the market. That's when we created the patented SharkCopier series of manual tower duplicators. This line was developed with inspiration from luxury European cars like BMW and Mercedes in which both visual beauty and high performance blended to make exceptional products. The SharkCopier's aluminum frame served as a stylish departure from the standard boxy clone cases, but also offered a method to disperse heat far faster and efficiently allowing the SharkCopier to operate continuously without negative repercussions from overheating like traditional steel cases.
It was a serious gamble to develop a new line of manual tower duplicator cases in a niche market with little to no guarantee that the massive investment would pay off. However, the SharkCopier line has proven to be a success and is a symbol of prosperity for a company that started with little more than $3,000 and a dream to become a market leader who continues to grow and make advancements in the field of digital duplication hardware and media.
To learn more about Vinpower Digital's full line of duplication hardware or its market leading recordable media, visit our website: www.vinpowerdigital.com, or speak with a Vinpower representative today.