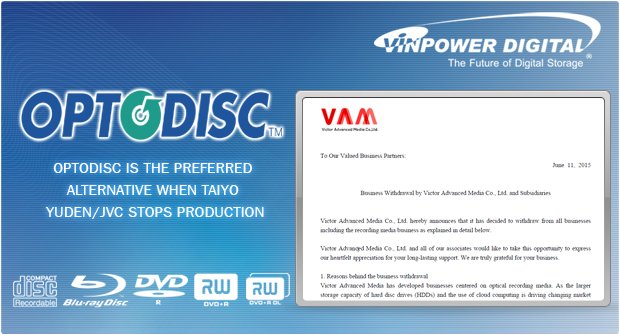 With the news that Taiyo Yuden stopping the production of all lines of Taiyo Yuden and JVC branded media, where can one find a suitable alternative? Fortunately, Vinpower developed the Optodisc line to follow the strict quality standards and reliability that Taiyo Yuden pioneered when they developed the 1st recordable CD-R many years ago. The Taiyo Yuden (TY) and JVC brands have been the standard bearers for recordable CD-R and DVD±R for many years. With the surprise news that they will shut down production, it leaves a large void in the market for high quality reliable recordable media.
Optodisc was developed with the TY concept in mind. As a manufacturer of duplication hardware for over 15 years, Vinpower has a great understanding about recordable media and how it needs to hold up under the rigors and fast pace of the duplication market. So when we developed the Optodisc line, we wanted to make sure that it was suitable for high volume production, but reliable enough to meet the high standards of the critical medical and storage markets.
So regardless of whether you need an inkjet or thermal printable surface, or require a reflective silver lacquer finish, Optodisc has what you need across all formats, including CD-R, DVD±R, DVD±R DL, BD-R, and BD-R DL. Contact a Vinpower representative today for more details about the full Optodisc line.