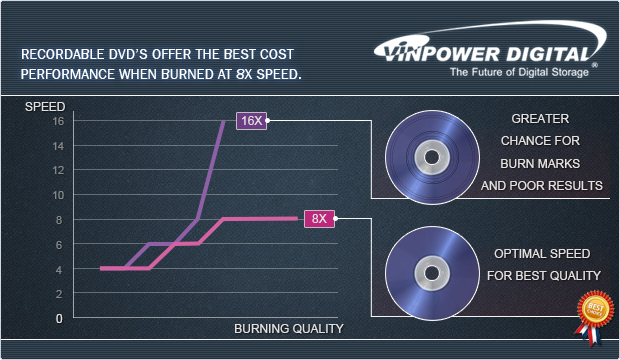 Just as the tortoise proved that slow and steady wins the race, so true is the case when burning DVD's. When selecting the most productive recording speed, 8x provides the best cost performance in terms of speed and recording quality compared to any other option. Sure you could burn the DVD at 16x speed, but for the 16x designation could be confusing. Burning at 16x is not twice as fast as 8x, in fact, you may only save roughly 60 seconds, but at that higher speed, you're more likely to see visible burn marks on the bottom of the discs that look like donuts. Those burn marks could negatively affect the playback or could even cause the drives to fail the disc during the duplication process.
Make sure you don't sacrifice quality for just a slight advantage in speed. In fact when you visit the major duplication houses around the world, which make their living duplicating discs, and you'll see that they prefer to burn at 8x every time.
For more details about the optimal burning performance, contact Vinpower Digital or an authorized Vinpower representative.