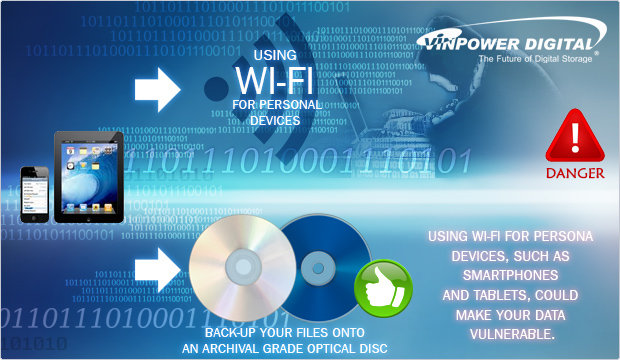 We've all heard the stories about celebrity's photos and personal data getting stolen or even large companies like Sony having their personal emails published for the world to see. Hackers are getting more and more sophisticated and one weakness that hackers are exploiting is accessing personal devices that are connected through Wi-Fi. As the storage capacity of our smartphones and tablets increase, plus with the increased functionality and capabilities, more and more people are using these devices for all of their professional and personal activities. So these devices will often contain many very important files, such as photos, business emails with attachments, spreadsheets, etc. Our phones went from voice communication devices to mini-computers that are constantly connected to us.
The more those devices are connected and accessible through Wi-Fi, the more potential there is for a cyber attack that could remove or delete the contents stored on that device. Even less sophisticated, an individual could simply lose the device or have it stolen, which again would render the content as vulnerable or at least permanently lost. So what's the alternative, no one will give up their smart devices and simply business cannot stop because of these threats?
The key is to back-up your data onto a secure medium that is not susceptible to hacking or data loss. The most secure and easiest method to do this is to back-up your files onto an archival grade optical disc, such as DVD or Blu-ray. Optical discs have large storage capacity that continues to increase and the content on them cannot be deleted, altered, or stolen remotely. By saving these critical files to archival grade optical discs, you can be assured to always have a back-up should the worst case scenario happen. Plus, the costs of these discs are so inexpensive, you can repeatedly make back-ups as needed or in regularly scheduled intervals and it won't create a drain on cash flow.
For more details this or any other Vinpower products, please visit our website at www.vinpowerdigital.com or speak with an official Vinpower representative.