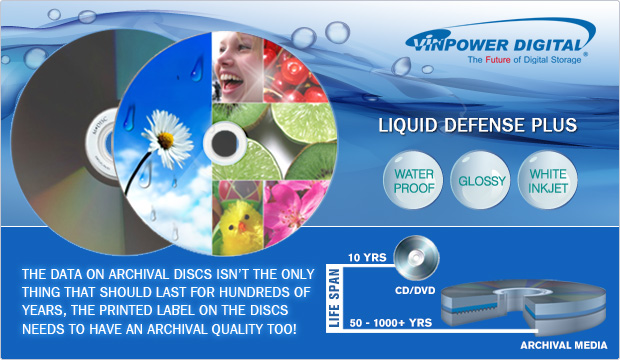 Archival discs are meant to store content for 50, 100, or 1000 years into the future, so why would you use a sharpie or water based inkjet printers on standard inkjet printable media to label those discs? Shouldn't the label on the disc look nice and hold up to the wear and tear of time just like the data on the disc? How else will anyone know what's on the disc if the label is no longer recognizable? If you're going to spend the money to ensure you have long lasting quality archival media, then you should get the TOTAL SOLUTION!
Vinpower now offers a line of both DVD and Blu-ray recordable archival media with the glossy, water, and scratch resistant Liquid Defense Plus inkjet printable surface on top. The Liquid Defense Plus inkjet printable surface allows you to use virtually any inkjet disc printer to label the disc(s). The Liquid Defense Plus Archival Media provides a stunning printed image along with the peace of mind that the data and label will hold up over time, regardless of coming into contact with moisture or other harmful common conditions.
For more details about the new archival DVD and Blu-ray recordable media with Liquid Defense Plus, contact a Vinpower representative today.