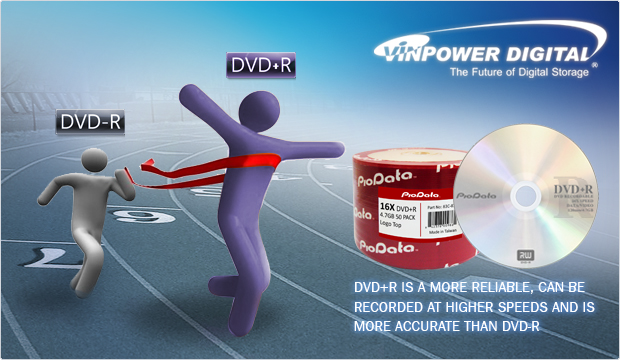 Do you know the difference between DVD-R and DVD+R? Most people don't realize there are two types of recordable DVD media to choose from. It's not surprising, as most of the time when there are two competing formats vying for the same market, i.e. VHS vs. Beta or HD DVD vs. Blu-ray, one format ultimately dominates and the other quietly fades from existence and becomes a cautionary tale for future technology battles. But the case of the recordable DVD is different in that both competing factions have not only survived, but look to remain viable options long into the future.
The 4.7GB recordable DVD-R and DVD+R formats are fairly similar, but there some distinct differences between the two. The DVD-R was the first recordable DVD format, developed by Pioneer in 1997. The popularity for DVD-R media was immediate and in 2002, a competing faction of companies developed an alternative recordable DVD, branding it as DVD+R media. Initially DVD-R was more compatible with DVD players and so the DVD-R format was the preferred choice for those copying video content. However, the DVD+R format was recognized as a more stable and reliable recordable media format and thus became the preferred choice for those storing data. Eventually, all DVD drive and player manufacturers recognized the merit of both formats and made sure all of their players and products supported both formats.
Today, DVD+R is just as compatible with recordable drives and player as DVD-R, but it's technological benefits make it a better solution. In fact, the DVD+R format uses a number of improved technologies that, while generally unnoticeable to the end user, make a more reliable technology. One example is the ADIP (ADdress In Pregroove) system of tracking and speed control used by DVD+R being less susceptible to interference and error than the LPP (Land Pre Pit) system used by DVD-R, which makes the ADIP system more accurate at higher speeds. In addition, DVD+R(W) has a more robust error management system than DVD-R(W), allowing for more accurate writing to media independent of the quality of the media. Additional session linking methods are more accurate with DVD+R(W) versus DVD-R(W), resulting in fewer damaged or unusable discs due to buffer under-run and multi-session discs with fewer PI/PO errors*.
So if you want a recordable DVD that you can burn faster, lasts longer, and is more accurate, the DVD+R media format is the superior choice. For more details about any form of recordable digital media or hardware, contact your Vinpower representative today.
*Taken from Wikipedia: http://en.wikipedia.org/wiki/DVD-R#cite_note-3