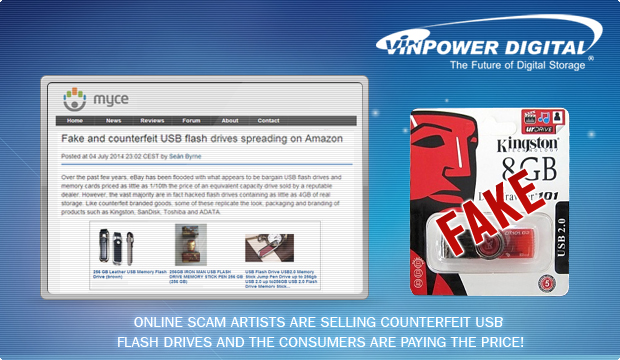 You know the saying it's too good to be true, well everyday unscrupulous individuals try to sell counterfeit items for what seems like a great deal, only to find out they are not what they appear. A recent article, http://www.myce.com/news/fake-and-counterfeit-usb-flash-drives-spreading-on-amazon-72165/, examined the rash of large capacity USB flash drives that turn out to be nothing more than much smaller capacity with a hacked firmware that makes it look like an authentic drive. It's not until you actually use the flash drive and discover that your content was overwritten or never copied accurately to begin with, that you discover the true capacity.
Since Vinpower sells a large number of USB duplicators, we see all kinds of low quality and fake USB Flash Drives. Often they look like a more reputable brand or in fact pretend to be that brand, so the customers often blame the hardware. After we reveal the true nature of their flash drive, then they realize that they purchased a fraudulent product. So when you are looking for the right USB Duplicator or flash drive to copy, don't get caught up in price alone, check to make sure you are getting an authentic reputable product that will meet your storage and duplication needs. Vinpower ensures all of our products are up to the highest standards, including hardware, media, and components, so that the recipient gets their money's worth instead of wasting time and money wondering whether the product they purchased was a good deal or they were taken advantage of with fake merchandise.
Don't leave it to chance, Vinpower stands by the products they offer.