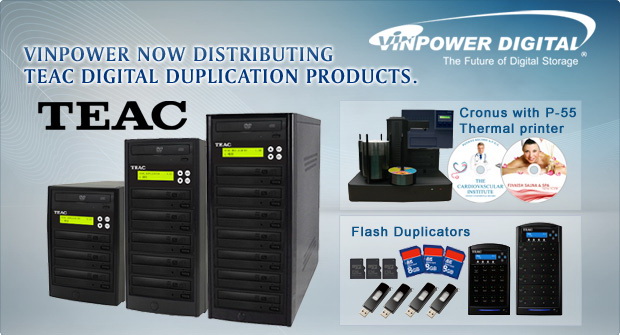 Vinpower Digital, a recognized global manufacturer and distributor of digital duplication equipment and accessories, will now add another very popular brand name to its arsenal of products. Vinpower has announced that it has initiated a partnership with TEAC to distribute the full line of TEAC optical disc and flash digital duplication hardware as well as TEAC's line of thermal printers.
"TEAC is pleased to establish a partnership with Vinpower Digital, that will help promote and grow the full line of TEAC digital duplication hardware and thermal printer products," proclaimed Les Luzar, VP Sales & Marketing at TEAC America, Inc.
TEAC offers a series of standalone manual tower CD/DVD, Blu-ray, USB flash, and SD/Micro SD duplicators, along with the P-55 full color thermal printer that works on optical discs, and select USB pen drives.
For more information about the full line of TEAC Duplication hardware and thermal printers, please visit www.vinpowerdigital.com.