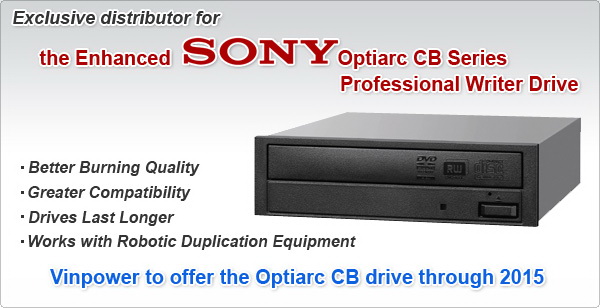 Vinpower has worked closely with Sony Optiarc to develop the enhanced duplication CB drive series, which include many exceptional features such as DVD+R DL Overburn, Enhanced Recording Stabilization Control, Tray Extension for autoloaders, Secure Media Speed Stability, and so much more. The CB drive has become the drive of choice for those that need these specialized features, as well as those that want to ensure a superior burned product with fewer failures, and a longer life span compared to other traditional DVD drives.
Recently, it was announced that Sony Optiarc was shutting down and will no longer manufacturer or supply any ODD recording drives after December 31, 2012. This was a devastating blow to the duplication market, which had come to rely on these drives for their platform and duplication needs.
Fortunately, because of the close relationship Vinpower developed with Sony, Vinpower will be able to continue supplying the enhanced duplication version CB drives for at least the next 3 years from January 2013 through 2015.
So if you have been using the Sony drive and felt uncertain about what to use next or if you are looking for a better writer drive option, contact Vinpower today to discuss the opportunities to secure the CB drive.