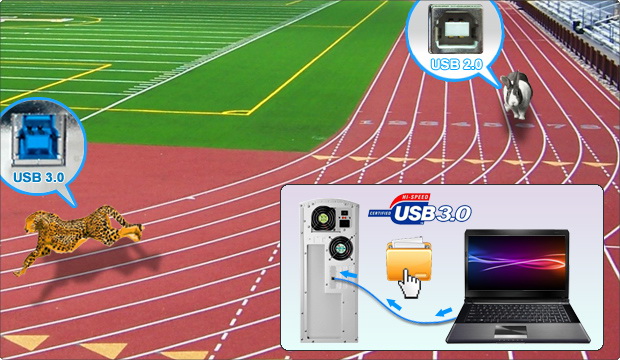 Vinpower Duplicators have long been using the USB connector to allow the user to transfer content from a computer to either a single drive or directly to the duplicator's hard drive (HDD).This method is often the easiest or only method by which the user can create the master disc or upload the master content onto the duplicator's HDD.When it comes to CD or DVD, the transfer rate of the USB 2.0 (rated at 60MBytes/sec) was adequate.
Now, we are living in the world of Blu-ray and disc capacity is growing by leaps and bounds. The older USB 2.0 transfer rate is just not going to cut it when you need to burn or transfer anywhere from 25GB's to over 100GB's of data. At that rate it could take hours to make a single Blu-ray master disc.
The Vinpower USB 3.0 connection is compatible with all of Vinpower's advanced USB connected features such as PC Connection, Drag & Drop, Copy Protection and others. The USB 3.0 PC connection also supports ISO, NRG and multi-file drag and drop for all formats at a much faster speed than USB 2.0.
With the introduction and the implementation by Vinpower of USB 3.0, (transfer rate up to 5Gbit/s and backwards compatible with USB 2.0), available on all manual tower and specific autoloader duplicators, the transfer time will be knocked down to minutes or even seconds.This will enable those looking to duplicate content onto Blu-ray discs, the ability to transfer that data through the USB 3.0 onto a master disc or the duplicator's HDD rapidly and eliminate wasted time getting started.
Contact Vinpower today to learn more about the USB 3.0 connection offering.