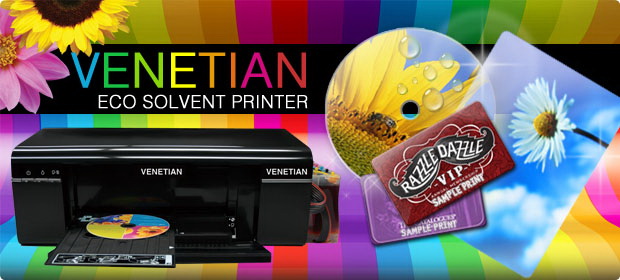 The Venetian printer has proven to be a tremendous cost cutting, high resolution, water and scratch resistant alternative to the standard disc printers on the market. Yet, it is so much more than just the standard run of the mill disc printer. The Venetian can also be used to print on multiple substrate surfaces that are difficult or impossible to print on through a traditional inkjet printer, such as:
• Vinyl for Stickers, Signs, etc.
• Glossy Papers
• Photo Paper
• Transparency and Clear Film
• Eco-Solvent specific media for decorating clothing, Wall Art, etc.
• Glass
All of these surface print options are also weather resistant including preventing of color loss through direct sunlight as well; so you know your projects will look professional and last for an extremely long time. The Venetian can accept paper sizes of 8.5×11, 8.5×14, A4, and smaller photo sizes, as well as optical discs for which it was originally created. Do you want to expand your business potential? Then purchase Vinpower's Venetian printer and see a world of opportunities.
*Additionally, if you have a special project that Vinpower's Eco Solvent Ink CIS solution would be beneficial, we may be able to modify the hardware to accommodate your requests. Please contact Vinpower with more specification to determine if we can meet your needs.