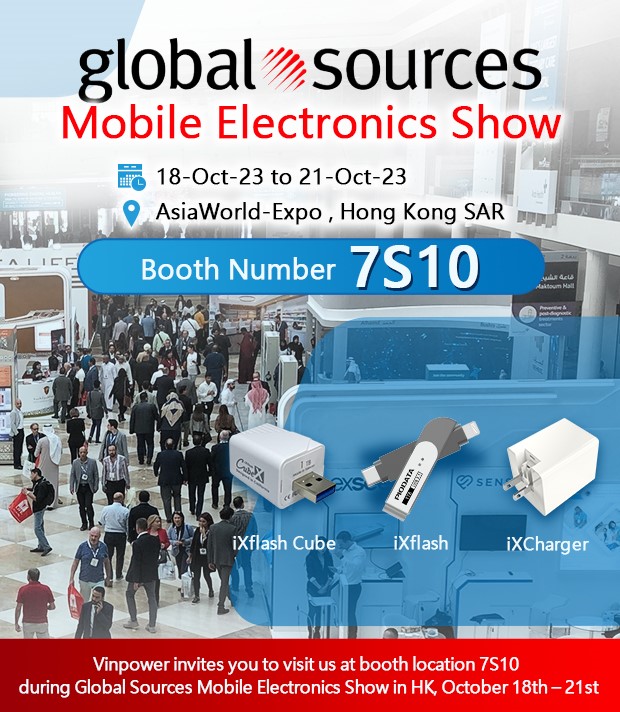 Vinpower Digital will exhibit our latest PIODATA mobile storage and charging products at the Global Sources Mobile Electronics Show taking place at the AsiaWorld-Expo, Hong Kong SAR, Booth Number: 7S10, from 18-Oct-23 to 21-Oct-23. We are pulling out all the stops to highlight our existing and upcoming product launch, including live demonstrations of the highly anticipated iXCharger. We welcome all visitors to join us at our booth by making an appointment to meet with us at our booth. We already have a number of appointment slots filled, so please contact us right away to schedule time while you are attending the show.
During the show, we will offer live demonstrations of our full smart mobile flash line, the iXflash and iXflash Cube series, including the updated App features and Android compatibility. Plus, the one of a kind revolutionary iXCharger will have live demonstrations of both the charging and storage capabilities preparing for its upcoming release this summer. We'll also highlight the AES 256 Encryption protection that will be offered with our storage products for total user safety and peace of mind.
To get up close and personal with any of these devices as well as our outstanding legacy optical disc and flash duplication hardware, media, and accessories, contact us today to schedule a time for a private meeting with our knowledgeable staff.
For more details about any products in the Vinpower mobile storage and charging offering, please visit our websites https://www.piodata.com, or contact a representative near you.