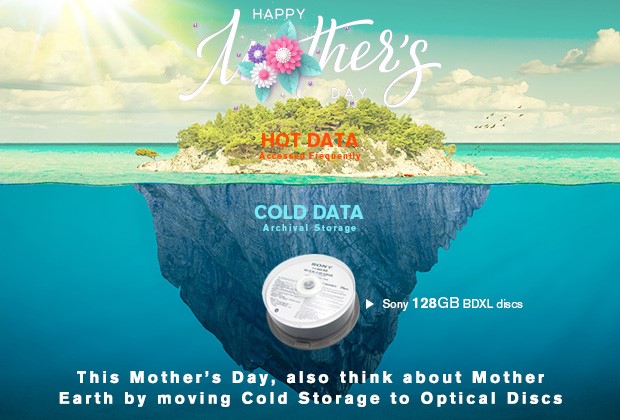 For much of the world, the second Sunday in May is Mother's Day. At Vinpower, we wish to honor all mother's for the amazing and selfless job they do or did raising their children. Additionally, we want to honor Mother Earth and in doing so, we are sharing a way that corporations and SMB's can also help the planet, by offloading their cold data onto optical discs. By offloading the massive troves of cold data stored on the servers of larger corporations, small and medium businesses, and laying waste in cloud farms, we could reduce a tremendous amount of energy, therefore reducing carbon emissions, emitted heat, and any ancillary harmful effects.
Cold data is defined as data storage that is rarely accessed, therefore considered "cold". Hence, there is no reason to maintain cold data in the same manner as frequently used Hot Data. That's why cold data can be stored on less expensive storage media, like optical discs. To optimize storage costs and reduce waste, in terms of financial cost as well as the toll it takes on Mother Earth, offloading cold data onto optical discs is the ideal solution. The content on optical discs can be recalled easily and only requires slightly more time than hot data that's frequently accessed. In using optical discs for cold data, then you're not only honoring our Mother Earth, but you're also ensuring you have a far more reliable and cost effective option for backup and storage compared to other more volatile storage methods.
Vinpower offers the perfect cold data solution with our 128GB BDXL Blu-ray media. With the ability to hold a massive amount of content, more than 5 times that of standard Blu-ray discs, and an archival life of up to 100 years, it's the ideal backup solution.
For more details on this item or any product Vinpower offers, please visit our website at www.vinpowerdigital.com, or contact a representative near you.