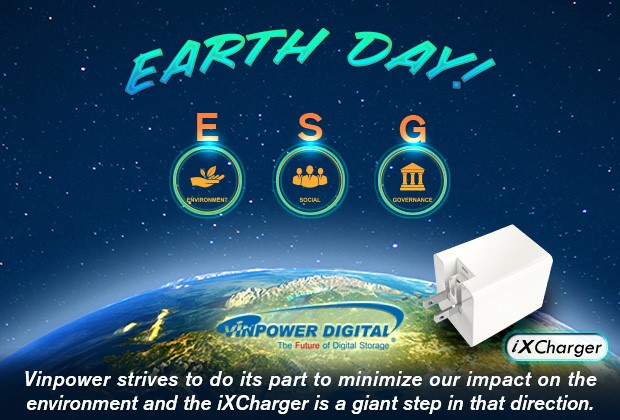 This Saturday, April 22 is Earth Day, but for Vinpower, we are focused everyday on how we can lower our carbon footprint and develop products that follow the ESG directives many forward thinking companies have put in place. That is one of the key reasons Vinpower developed the multi-purpose compact iXCharger. As we are all aware, every electronic mobile phone, tablet, or computer requires two critical components; a method to power the device and a way to store digital content to be used on that device. Often the memory installed on the device is not sufficient, so we have to purchase additional memory in the form of an external hard drive/SSD, USB drive, SD Card, etc., and we will carry multiple power cube chargers so that we have a specialize one for each device.
That's a lot of extra products and plastic that could end up in our landfills, oceans, neighborhoods, creating an environmental, social, and governance nightmare. With the iXCharger, you have a single charger and extra memory storage that can replace all the charging cubes and external memory devices for all your portable mobile devices. The iXCharger works across all platforms, from Apple iOS and MacBooks to Android, as well as Windows and other mobile PC based operating systems. Plus, the iXCharger's enhanced GaN charging technology and extremely compact design means it produces less heat and uses far less plastic than traditional higher capacity charging cubes and external memory devices.
Vinpower has always cared about the planet and the legacy we leave to those that come after us and the iXCharger is a testament to that vision.
For more details on any product Vinpower offers, please visit our website at www.vinpowerdigital.com, or contact a representative near you.