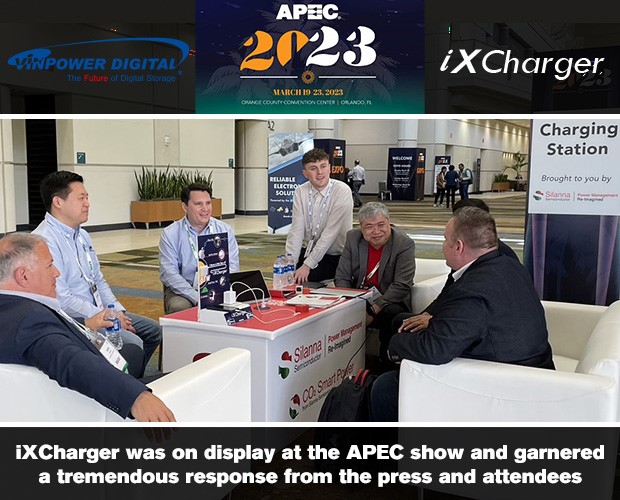 The iXCharger was spotlighted at the Applied Power Electronics Conference (APEC) this week and garnered a tremendous response from the press and attendees alike. In fact, a member of the press that interviewed us about the device said it was "Shocking"! Ordinarily you wouldn't want to associate something as "Shocking" at a Power Electronics Conference, but in this case it was a very positive attribute from a journalist that has seen it all in the power world but never seen or considered a product like the iXCharger. In fact, several journalist were so excited by this new innovation in the power world, they asked us to participate in their podcasts when the product is available for consumers this summer.
Overall, it was an incredible reception for the iXCharger from those that are entrenched in the development of components related to power products for electronic devices, from resisters to electric car batteries. The consensus opinion was that no one had ever considered creating a power cube with storage memory, but now that they are aware of it, they instantly recognized how useful and necessary it will be.
Vinpower wishes to thank our partner, Silanna Semiconductor, for their invaluable contribution to the development of the iXCharger and inviting us to exhibit our new product with their latest power charger products at APEC. The iXCharger will be making the rounds at various tradeshows and events this year, so stay tuned for your opportunity to see it in person at our next stop on this power storage train.
For more details on any product Vinpower offers, please visit our website at www.vinpowerdigital.com, or contact a representative near you.