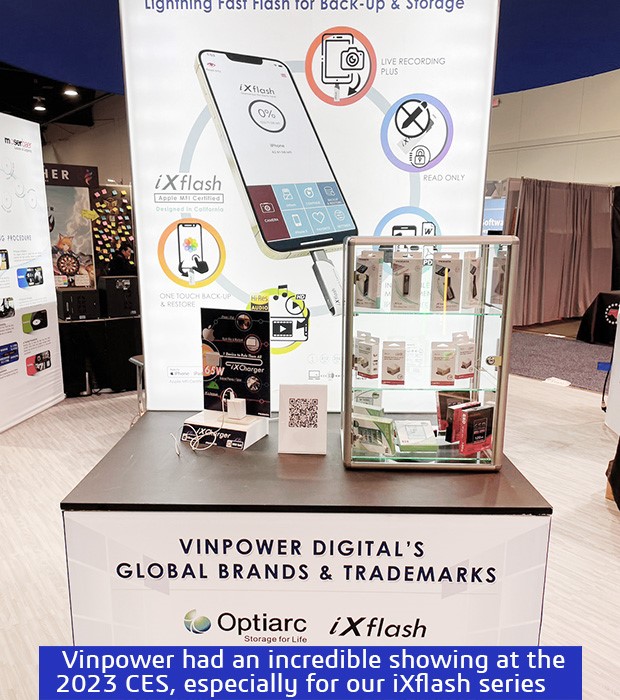 For those of you that visited Vinpower's booth during CES, we thank you and look forward to following up on our discussions. The products that garnered the most attention, were the line of iXflash mobile flash storage products. Not surprisingly, the upcoming iXcharger, which is the first of its kind 65W 1TB charging storage cube, created the greatest buzz. The iXcharger will allow users to replace their charging cubes for their mobile phones, tablets, and most laptops as well as provide 1TB of storage that will work with all 3 platforms, reducing the need for 4 separate items into a single product. Plus, being able to maintain your digital content from all 3 types of mobile devices on a single storage device means that you never have to wonder where you saved that file, picture, movie, etc., as you can load them all to one device with separate folders maintaining the integrity of each set of files.
Additionally, our original iXflash and the latest iXflash Cube also registered a number of positive inquiries, especially since both of these devices are available now. The iXflash is the traveling hard drive with both a USB and Lightning connection for your iOS device (iPhone or iPad). It can back up all your photos and videos, record video without using any of your iOS device's memory, transfer files between your iOS device and computer, and watch, listen, or work on files stored on the iXflash through your iOS device, including some files that are not natively supported by Apple. Plus the iXflash Cube, is a portable storage device that connects to your iOS devices charging cube and cable to allow the user to charger their iOS device and automatically backup all photos, videos, and contacts at the same time. That way, you always have a backup that you can easily transfer to a computer with a USB connection for safe keeping or easy viewing.
Plus, our line of duplicators, especially the hard drive, USB, and SD duplicators also garnered interest from a number of visitors. Flash is increasingly used across many devices and duplication is the only way to mass produce the content stored on them. Vinpower's flash and hard drive duplicators make it easy and reliable.
For more details about these products or any product in the Vinpower offering, please visit our website www.vinpowerdigital.com, or contact a representative near you.