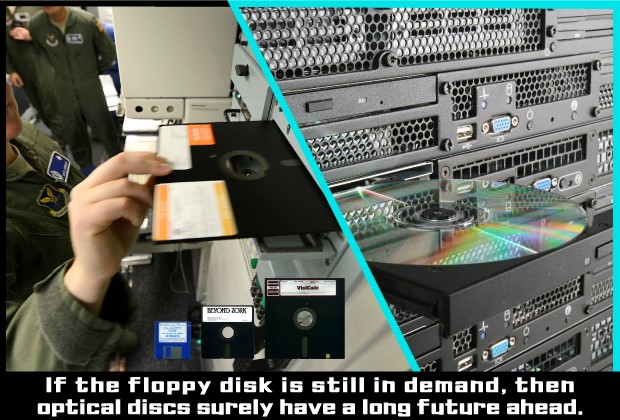 Recently I came across an article about a friend of Vinpower that still has a robust business selling floppy disks (see link to article below). Of course, the first thought that comes to mind is, who still uses floppy disks? Interesting enough, there are still many industries that built incredibly complex equipment 30, 40, even 50 years ago, that are still operational today. For instance, aviation equipment, military installations, nuclear armaments, medical installations, and more. These devices still require floppies to insert feature updates and other digital inputs from time to time. In most cases, like the nuclear arms, the fact they use such dated technology actually makes them safer because they are not susceptible to online hacking or remote entry.
With that in mind, there are certainly equipment built in the late 90's and 2000's that upgraded from floppy to optical disc (CD, DVD, Blu-ray) and will also have long lifespans requiring optical discs for upgrades and updates. Although, optical discs will certainly maintain an even greater influence well into the future due to its naturally embedded benefits, like being write once, large capacity, easy to store, archival grade, low maintenance, and much more. That means that optical discs cannot be altered, hold a tremendous amount of data, less sensitive than magnetic or tape storage, maintains data for a long time, and doesn't require electricity or power when stored. That makes optical discs ideal for industries that need to be able to rely on a technology to last as long if not longer than the product(s) that rely on them.
Here's the article about the demand for floppy disks:
https://www.reuters.com/technology/1990s-relic-floppy-disks-get-second-life-california-warehouse-2022-10-20/
For more details on these products or any items that Vinpower offers, please visit www.vinpowerdigital.com, or contact a Vinpower representative near you.